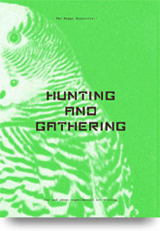 Hunting and Gathering
The second issue, edited by Maria Fusco, themed Hunting and Gathering. Techniques of collage & bricolage, found text and image, interspersed with appropriated and parodic writing. Contributors include: ArtstrA/Barbara Reise Archives, Steve Beard, Susanne Clausen, Marie Darrieussecq, Brian Dillon, Andrew Dodds, Thomas Hirschhorn, Gabriel Lester, Jo Melvin, Rashanna Rashied-Walker, Lisa Robertson, Andrew Shelley, Nick Thurston and Lynne Tillman.


The Happy Hypocrite is a semi-annual journal for and about experimental art writing. Informed by a lineage of modern experimental and avant-garde magazines, such as: Bananas, Documents, The Fox, Merlin and Tracks, HH aspires to unpack their methodologies whilst providing a new constituency for contemporary art writing. Providing a greatly needed testing ground for new writing and research-based projects, somewhere for artists, writers and theorists to express experimental ideas that might not otherwise be realised or published.
Edited by Maria Fusco
£8.00 - ISBN 978 1 906012 10 6 - published by Book Works, London