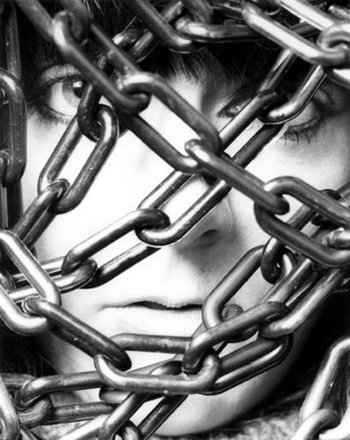 COSEY COMPLEX came crashing into consciousness one Thursday afternoon near Kings Lynn as Cosey Fanni Tutti and I talked about, amongst other things, how nomenclatures can numb, nurture, pay and percolate concepts into life. This wonky process of taxonomy got me thinking on the train back to London if Cosey could be methodology in and of itself.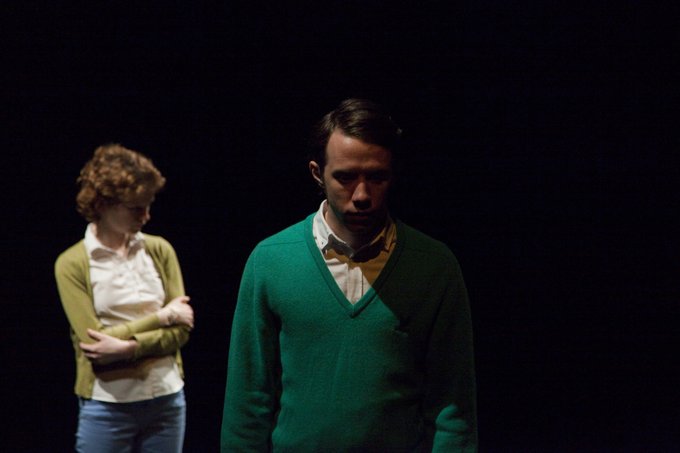 So it seemed I had already begun to brew an event which would put method directly into practice, discussing what (if anything) is lost through polyvocalism.
Participants to the event included: Martin Bax, Gerard Byrne, Cosey Fanni Tutti, Daniela Cascella, Diedrich Diederichsen, Graham Duff, John Duncan, Anthony Elms, Corin Sworn, Chris Kraus, Zak Kyes, Clunie Reid and Rob Stone. The day concluded with Cosey Club, a regular club night brought to the ICA under the rubric of 'Cosey as Methodology', and which tonight features bands and DJs such as Factory Floor, Fixmer/McCarthy and Andrew Weatherall.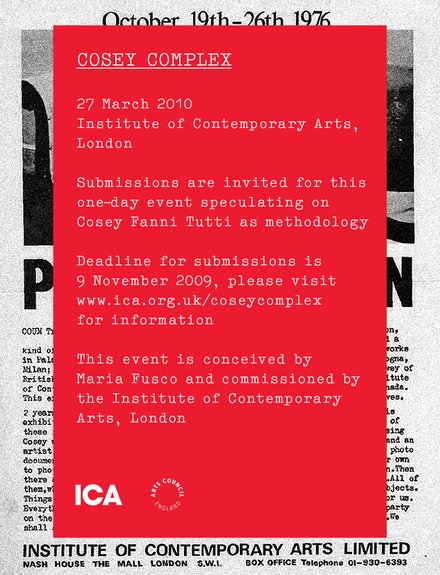 Where better to action the event than at the ICA, where in 1976, Cosey staged COUM Transmissions exhibition Prostitution, which was promptly killed after just four days by the Crown Commissioners. COSEY COMPLEX could be just like giving a present to a ghost.
The greatest difficulty in constructing COSEY COMPLEX has been in trying to maintain a speculative method of approach, both in terms of how I describe the project to myself, and the efforts I make to explain it to other people, without reducing its intellectual or creative scope. The means that I've come up with to do this succinctly is to think of what might happen when you shift Cosey from noun to verb: thereby profoundly shifting the possibility of Cosey.
The work I commissioned which forms COSEY COMPLEX is not causal in nature: there is no desire to create a sense of linear inspiration, to re-imagine or even re-make Cosey's own work.
COSEY COMPLEX's portmanteau of oblique, yet precise responses to Cosey perhaps cohere around an impulse to experiment in public, and in that sense, share much with the need to look and of course to be looked at.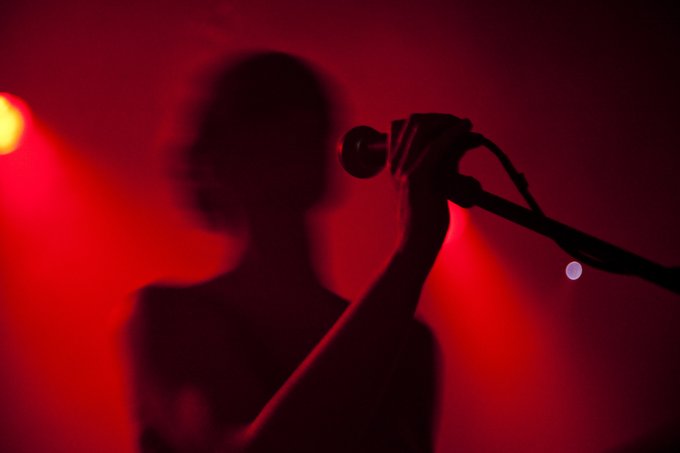 COSEY COMPLEX Reader
Cosey's website
You can download the interview that started all of this, first published in The Happy Hypocrite issue one below: